Planet Party Rentals – Tel: 818 207 8502
Planet Party Rentals is a family owned party rental company that offers Jumpers Moon Bouncers Tables Chairs Canopy Tents Helium Tanks Patio Heaters Chafing Dishes for rent. We provide our rental services in the San Fernando Valley in Los Angeles, California. We also provide our party rental services to surrounding areas of the San Fernando Valley which include: Santa Clarita, Simi Valley and West Los Angeles.
Delivery Fee's | PlanetPartyRentals.com | Tel: 818 207 8502
Any of our packages can modified to fit your party or event, give us a call to help you with your order.
Phone Hours: 8am-9pm Monday-Sunday – Tel: 818 207- 8502
Contact us via message on our contact sheet – click

Send Message

to send us a message.
Delivery Fee's
Delivery Fee for San Fernando Valley: $10

Delivery Fee for West Los Angeles : $15

Delivery Fee for Santa Clarita: $15
Delivery Fee for Simi Valley: $15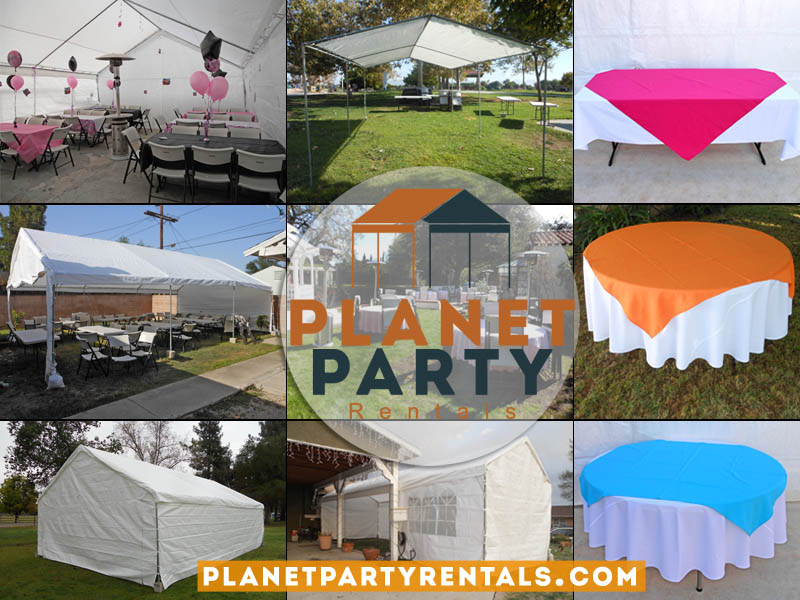 | Tables and Chairs | Rental Price |
| --- | --- |
| Chair (Plastic White Chair) | 0.65 |
| Rectangular Table (6ft by 3ft) | $5.00 |
| Round Table (60″) | $10.00 |
| Table Cloths, Diamonds (Runners) *Does Not Include Table | Rental Price |
| Table Cloth (White or Black) for Rectangular Table | $4.00 |
| Table Cloth (White or Black) and Diamond (Various Colors) for Rectangular Table | $5.00 |
| Table Cloth (White or Black) for Round Table | $6.00 |
| Table Cloth (White or Black) and Diamond (Various Colors) for Round Table | $7.00 |
| Chafing Dishes Equipment | Rental Price |
| Chafing Dish includes 2 Chafing Fuels | $15.00 |
| Patio Heater Equipment | Rental Price |
| Outdoor Patio heater includes Propane Gas tank | $60.00 |
| | |
| Jumper Packages | Rental Price |
| (Jumper Package #1) – 1 Jumper, 35 Chairs, 3 Rectangular Tables | $100.00 |
| (Jumper Package #2) – 1 Jumper, 24 Chairs, 3 Round Tables | $100.00 |
| (Jumper Package #3) – 1 Jumper | $65.00 |
| Canopy / Tent Rentals | Rental Price |
| --- | --- |
| 20ft by 60ft Tent with walls (Tent only) | $300.00 |
| 20ft by 40ft Tent with walls (Tent only) | $250.00 |
| 20ft by 30ft Tent with walls (Tent only) | $200.00 |
| 20ft by 20ft Tent with walls (Tent only) | $150.00 |
| 10ft by 30ft Tent with walls (Tent only) | $110.00 |
| 10ft by 20ft Tent with walls (Tent only) | $90.00 |
| 12ft by 20ft Tent (Does not include walls) (Tent only) | $75.00 |
| Canopy / Tent Packages (Tables and Chairs Included) | Rental Price |
| 20ft x 60ft Tent , 96 Chairs , 12 Rectangular Tables | $425.00 |
| 20ft x 40ft Tent , 80 Chairs , 10 Rectangular Tables | $355.00 |
| 20ft x 30ft Tent , 64 Chairs , 8 Rectangular Tables | $285.00 |
| 20ft x 20ft Tent , 48 Chairs , 6 Rectangular Tables | $215.00 |
| 10ft x 30ft Tent , 32 Chairs , 4 Rectangular Tables | $150.00 |
| 10ft x 20ft Tent , 24 Chairs , 4 Rectangular Tables | $125.00 |
| 12ft x 20ft Tent , 24 Chairs , 4 Rectangular Tables | $110.00 |
| Canopy / Tent Accessories | Rental Price |
| Lights for Tent | $10.00 |
Price List